Villa "EPAVLIS" is located in Methoni, a vacation and
relaxation destination all year round, at a distance
of 60 kilometers from the airport of Kalamata
and just 200 meters from the beach.
more...
Private pool
Garden
Fire place
Central heating
Air condition
more...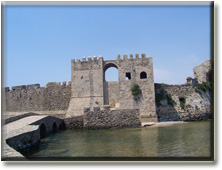 Methoni, one of the most historical
places in the Peloponnese, with a
cultural life that is centuries old. The
ancient city of "Abeloessa Pidassos"
as it mentioned in Homer has been
through the course of centuries...




You can use the following form in order
to make a reservation. Just follow the link and fill all the necessary fields.

Online booking